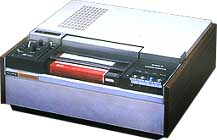 La première démonstration d'enregistrement vidéo en noir et blanc est due à la Mincom, une filiale de 3M/Scotch, en 1951 aux Etats Unis. En 1954, la firme RCA construisit le premier magnétoscope reconnu comme tel. L'année suivante, en Angleterre, la BBC présenta le magnétoscope à enregistrement longitudinal VERA (Vision Electronic Recording Apparatus). Un véritable monstre, qui consommait 17 km de bande par heure !
C'est la firme californienne Ampex qui, en 1953, résolut le problème de la consommation de bande grâce à un procédé qui permet de conserver une vitesse de défilement acceptable. Ce procédé est encore en usage aujourd'hui sur l'ensemble des magnétoscopes professionnels ou grand public.
La première retransmission d'une émission TV enregistrée eut lieu le 30 novembre 1956 sur un Ampex VR 1000. CBS Télévision City, une station de Hollywood, enregistra l'émission Douglas Edwards and the News, en provenance de New York, pour la diffuser 3 heures plus tard.
On doit également à Ampex l'invention du premier magnétoscope couleur, présenté en 1958. En mai 1985, Sony présentait le premier magnétoscope à enregistrement numérique.
Magnétoscope grand public

Le premier fut lancé par Sony en 1964, mais c'est le VHS, présenté par JVC en octobre 1975, qui a pris une position dominante sur le marché.